Rocker
Anne Hathaway
rocked a single-shoulder design from Sophia Kokosalaki. She kept her leather ladylike with classic black pumps and a curled coif.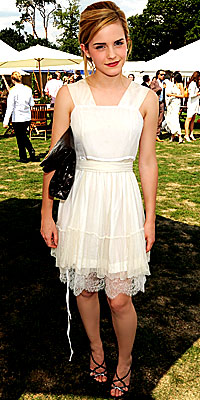 Emma Watson
Feminine
Emma Watson
looked refreshingly girly in a white lace dress by Charles Anastase. Satin fabrics and ruffle details also work to capture this feminine look.
Camilla Belle
High-Waist Pants
Camilla Belle
was an updated Annie Hall in rib-grazing trousers from Giorgio Armani. A tucked-in tank and leather blazer kept the silhouette strong and sophisticate
Nicole Richie
Floral
Skip all-over pastels—this autumnal update requires a darker palette. The gray hues in
Nicole Richie
's Dries van Noten gown render it a sophisticated and perfectly appropriate choice for an evening affair.
Kristin Davis
Floral
Flowers are no longer just for spring! Make the look fall-appropriate by adding heavier accessories—like
Kristin Davis
. The actress grounded her Michael Kors dress with a black bag and heels. Cover legs with black or gray opaque tights when the temperature drops.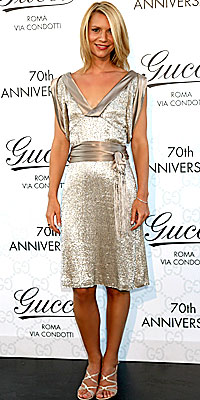 Claire Danes
Metallic
Claire Danes
shimmered in a draped and belted dress by Gucci. Matching metallic sandals and diamond bracelet made the dazzling frock even more golden.
Fergie
Slouchy
Fergie
's LBD is anything but basic. The slouchy draping and keyhole gives a nod to sexy, while the leather catch keeps it edgy. The songbird added a touch of glamour to the look with a diamond cuff and jeweled heels.