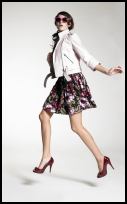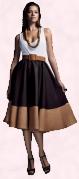 In particular skirt shapes have been refreshed again, so the volume trend seems new and lively.  Easy gathered dirndl skirts that swish and swing, or full skirts consisting solely of tiered ruffles are a newer way to adopt volume.  The waist can be a focus of interest if you have a waist to show.
Hot Tip - 2008 Must-have - Fuller skirts
This short Dirndl skirt and jacket shown left is from New Look Spring Summer 2008 fashion collection.  Note the easy carefree movement in the floral printed skirt. No fuss, easy to wear, but pretty yet practical for the uplift you will get with summer days. 
Above right - Debenhams Womenswear Spring/Summer 2008 - Red Herring white vest £6/€9.50, Betty Jackson.  Black circle skirt £50/€78, Mantarary tribal look necklace £12/€18.50 and chunky ring £6/€9.50. 


Full skirts are always popular with women since they enable free leg movement.  With time, whatever your age, the Summer of 08, is one you will probably recall as the summer of lightness and freedom in fashion trends.